Anti Joke Chicken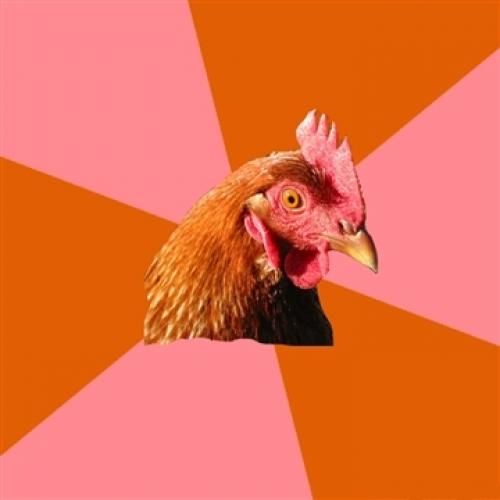 Anti-joke chicken is the kind of chicken who would never bother to answer why he crossed the road. Set against orange and pink starburst as a background, this brown chicken with a red comb and a beady gold eye is turned in profile.
The top caption of the split text begins with the start of a stereotypical joke, such as "so, a man walks into a bar..." with the bottom half expressing an anti-climactic continuation that is no joke at all "he's an alcoholic and it's destroying his family."
Anti-Joke Chicken is an image macro series that perpetuates the trope of anti-humor, with a joke setup followed by no punch line at all.
The result: a meta-joke of ironic humor.
And the chicken crossing the road, to get to the other side? This joke also has no real punch line, and may have served as an inspiration for Anti-Joke Chicken.
The photo was taken by the hen's owner, North Carolina ophthalmic photographer Marshall E. Tyler.
A Reddit thread created in February 2011, "It's the anti-joke chicken!!!!" linked to an imgur page containing four spin-offs. The poster stated these images were found on 4chan /b/, dating to 2007.
Read Less
Read More