Anxiety Cat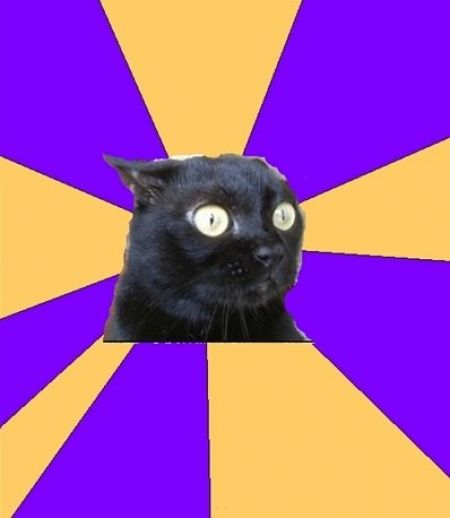 Poor Anxiety Cat. This meme of a black cat, ears back, eyes wide, looks positively panic stricken. A star-burst pattern of purple and gold form the background behind his photo shopped image of pure alarm.
Anxiety Cat is an advice animal image macro series meme, and as such is similar to Socially Awkward Penguin and Paranoid Parrot.
The captions usually relate to ideas of social anxiety and extreme paranoia or distress.
The image first appeared on a poster that began to circulate in 2007 with the catchphrase "What Has Been Seen Cannot Be Unseen."
The earliest posting of the image macro on Meme Generator dealt with catnip, rather than social panic. The first fear-filled captioning related to standardized testing.
A single topic Tumblr for Anxiety Cat appeared in August 2011, the image macro series was posted on Reddit, Pleated Jeans, Caturday Today, Uproxx, I Can Has Cheezburger, and Pinterst. In November 2012, it was featured on the site Complex which listed it in the 15 Funniest Cat Memes Ever.
Read Less
Read More