Aristocat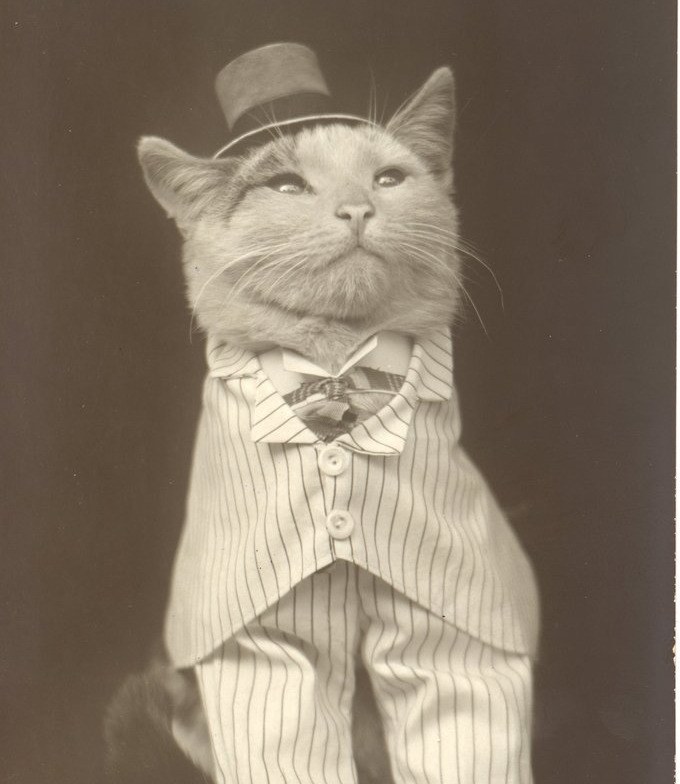 Aristocat is an advice animal series featuring a black-and-white photo of a cat. This feline is dressed up in a suit and top hat. Captions portray him as wealthy and elite class, a kitty who orders his servants about.
Aristo Cat made his first meow in August 2011 when Redditor Scratchie submitted "Aristocat's worked for it" to the /r/AdviceAnimals subreddit. A black and white cat photo was accompanied by the caption "Poverty...is a lazy man's problem."
The photo originated on a postcard from 1906 with the caption "One of the 'Smart Set."
In December 2011, Redditor theel25 submitted another Aristocat image to the /r/AdviceAnimals subreddit, with the caption "What did one poor person say to the other poor person?... Who cares?" The following February, Redditor YellowBatman submitted"Quite the Aristocat" to the /r/funny subreddit, captioned "Jeeves ... Fetch me that red dot moving on the wall." This post received 7,300 up votes and 45 comments. The meme hit a new high in December 2012, with the
Redditor Chubb47 submit of "Aristocat" to the /r/AdviceAnimals subreddit that was captioned "Geoffrey, bring the car around... I want to sleep under it," which received 13,400 up votes and 115 comments.
Other Notable Examples
Jenkins prepares the nicest carpet...
I wish to vomit
and
Fetch me my Wall Street Journal...
I wish to roll around on it.
Additional examples can be found on the microblogging site Tumblr[10] under the tag "#aristocat." Within the family tree of Advice Animals, Aristocrat bears some resemblance to Business Cat and Lawyer Dog, particularly in juxtaposing the privileged status of each character with their natural instincts and habits.
Old Money Dog
Aristocat inspired the creation of the "Old Money Dog" advice animal series
Read Less
Read More