Art Student Owl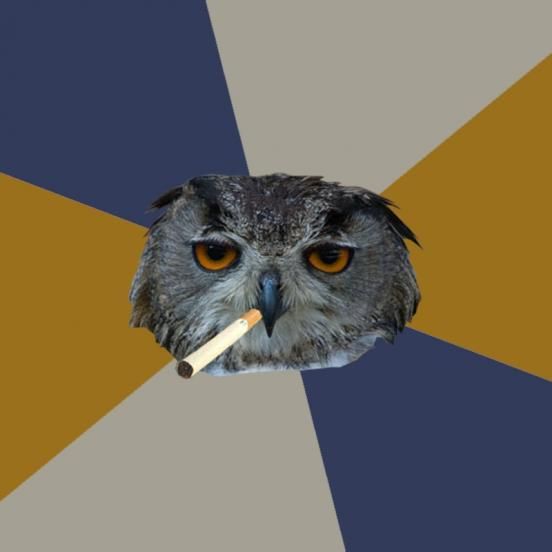 The Art Student Owl meme mocks a stereotypical art student. The character chain smokes, and appears to devoted to anything related to art, with no interest in any other aspect of life. This spoof of an art student subsists on student loans, and is condescending to those who live in the real world without suffering for their art. The meme character views virtually everything as either art or something to be used as art.
The meme is a photo of an owl who looks bored, a cigarette dangling from his beak. The text usually concerns art school, art itself, and artists. Some well known meme topics are:
"It is not crap … it is a sculpture I made with my anus," and the original image caption, "This product is known to be carcinogenic... better paint with it."
Art Student Owl is an advice animal image macro. It grew out of the single topic blog Fuck Yeah Art Student Owl, created by School of Visual Arts student Kendra, a Tumblr user. She first posted it to her Tumbler in February 2011.
A discussion thread about the blog posted later in February to the Sweatdrop Manga Studio Forums, and in an article written by Jay Hathaway "Art Student Owl – New Advice Meme Alert."
The popularity spread on Tumblr, Blogspot, Memebase, Facebook, and the Advice Animals sub-reddit. A spinoff meme is called Art Newbie Owl.
Read Less
Read More