Ash Pedreiro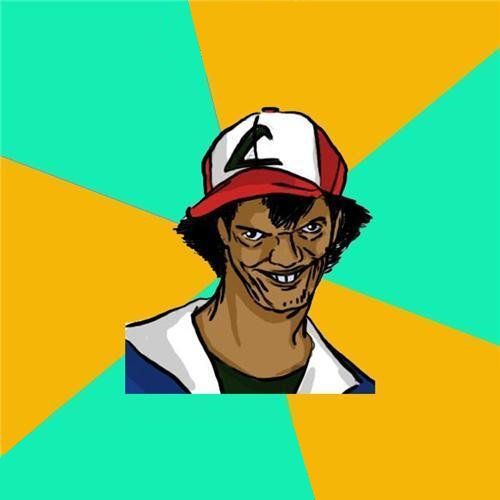 Ash Pedreiro, also called "Dat Ash," is a malevolent looking, darker skinned take on the artwork for Pokemon trainer Ash Catchum. His leer is accentuated by a slightly askew red and white baseball cap. His eyes look down lewdly at his subject.
The split caption makes a statement of purpose on the top half of the meme image, and details about what's going to happen on the bottom half of this advice animal image macro.
In this alternate universe of Pokemon artwork, Ash often makes lewd or derisive puns based on Pokemon creature names.
The art work was inspired by a photograph posted on myfacewhen.com. Which was used as a reaction face in December 2010. The advice animal macro was posted on the Portuguese website Cao Ninja in February 2011.
"Pedreiro" is slang that labels Brazilian construction workers who utter cheesy or crude pick-up lines at women who walk past their work sites. In the U.S., the slang label would be
"construction catcall."
The meme spread on Portugese websites throughout 2011, and compilations have been posted to BuzzFeed, Smosh, and Quickmeme, where the first posting used the caption "Ay gurl ay... how's mah muk taste in yo meowth?"
Read Less
Read More