Bad Joke Eel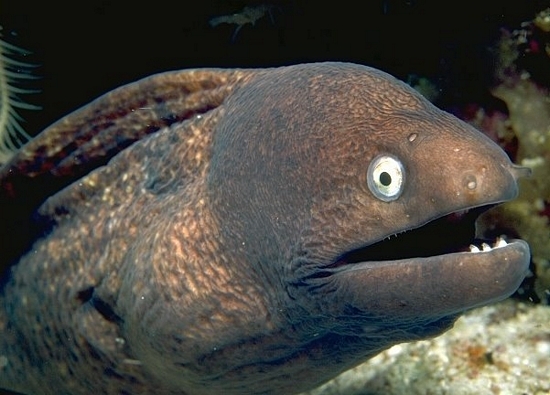 Bad Joke Eel – this is the meme version of the old comic Henny Youngman. Eel is an advice animal image macro. The visual is a close-up photo of a Moray eel with captions that present unfunny lame jokes and puns. He is similar to Lame Pun Coon.
The eel's photo originated from Jeffrey N. Jeffords, who shot it scuba diving in the Philippines. He took the shot for his site, Dive Gallery. The first image macro was posted in the AdviceAnimals subreddit in January 2012. The thread reached the frontpage of Reddit, with over 400,000 views in the first four days.
Notable example: "I'm on a sea food diet - when I see food, I eat it"
The same image was used as a punchline for the phrase "That's amore" by a commenter on FARK in October, 2009, as well as in an image macro on So Much Pun in January 2011.
The Quickmeme for Bad Joke Eel was created the same day as the original Reddit post; derivatives appeared on humor sites such as I Can Has Cheezburger, Sad and Useless, Tastefully Offensive, and FunnyJunk. On Tumblr, this punny eel can be found via hashtag #Bad Joke Eel.
Read Less
Read More