Bad Luck Brian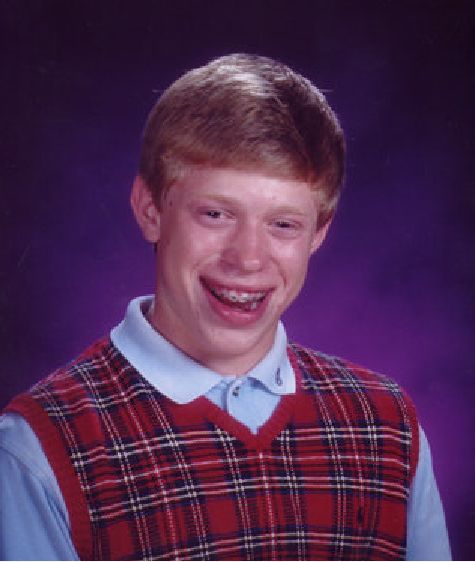 Bad Luck Brian is an image macro with a photo of a blonde teenage boy. He wears a plaid sweater vest and braces. The meme's caption discuss many different tragic or embarrassing happenings, such as the original caption in January 2012, "Takes driving test... gets first DUI."
More popular was a subsequent caption that read "Tries to stealthily fart in class... shits."
The series resurged in popularity in March when Redditor Very_Juicy submitted a macro to the with the caption "Falls asleep in class...wet dream." This meme and caption were reposted to humor site 9gag, Pinterest, Buzzfeed, and Funny or Die. It continued to spread through June 2012. Several different Facebook pages have been created for Bad Luck Brian.
A caption trend has risen in which the bottom text does not change. For example, "Tries to stealthily fart in class ...shits" has been used repeatedly with other top caption, with"shits" remaining as the bottom caption. Many of the captions in this series are about embarrassing happenings regarding bodily functions, sexuality, or current events.
In April 2012, a Redditor claimed to be Bad Luck Brian, revealing his name as Kyle, and that the photo was his seventh grade school photo. He also stated that the school principal made him retake the photo, thinking that he was making the goofy expression popularized on the meme on purpose. Kyle claimed to have
basically good luck in his real life, once winning an XBox 360 and a PSP. Responding to these comments, new captions were created for the meme by Reddit users.
Read Less
Read More