Bill Lumbergh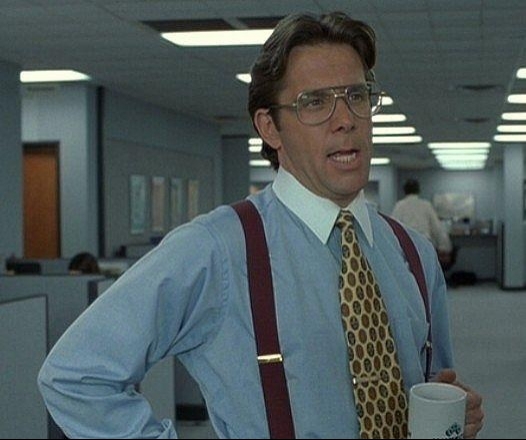 Originating with the 1999 workplace comedy film Office Space, the character Bill Lumbergh is depicted holding forth against a background of office cubicles. Popular versions of this meme include "Yeah, if we could all just stop shooting each other - that'd be great." The captions all mimic the character's excessively non-confrontational speech with requests ending in the expression "That'd be great."
In the film, Bill Lumberg (Gary Cole) is a stereotypical corporate manager who is committed to
pointless paperwork, and frequently asks employees to work over the weekend on unnecessary tasks.
In October 2011, Redditor AnkenTEM submitted a Lumbergh post titled "That'd be great" to the /r/pics subreddit, with a photo of a cosplayer dressed as Lumbergh and Darth Vader from Star Wars. It featured the caption "Yeah, if you could just, come to the dark side, that'd be great." May 2012 found Redditor isntthatironic submitting "Lumbergh Cat" to the /r/AdviceAnimals subreddit, featuring a photo-shopped screen capture of Lumbergh with a cat's head captioned "Yeeaaaaahhhhh - I'm gonna need you to let me out even though you just let me back in."
The Lumberg meme continued to spread via Quickmeme with over 500 submissions.
Read Less
Read More