Blackjack Bender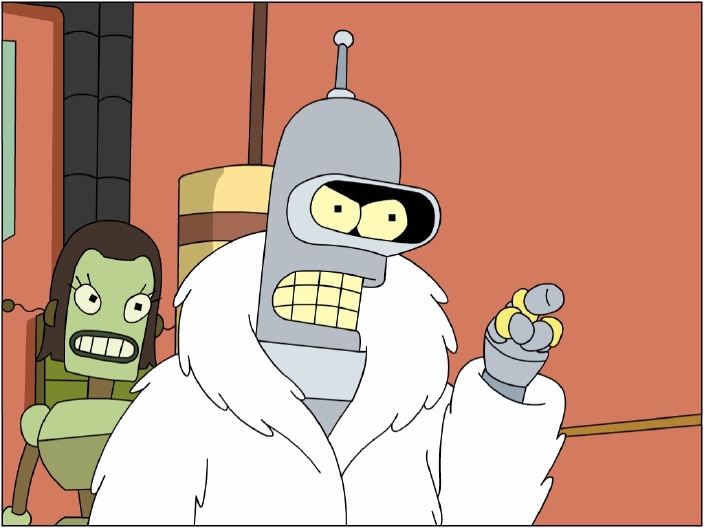 Based on the quote "I'm Going To Build My Own Theme Park With Blackjack and Hookers" made by the character of Bender in a 1999 episode of animated TV series Futurama, this meme features variations of the phrase " We'll create our own ______ with blackjack and hookers. The idea is an expression of dissatisfaction that suggests the speaker could do whatever he wants to create better than it has been done.
The original setting for the comment, in the first season episode"The Series Has Landed" was the outgrowth of a trip to an amusement park on the moon by anti-hero Bender, when caught reaching through a prize slot, and ejected from the building. Following this ignominious treatment he says "I am going to build my own theme park with blackjack and hookers!"
In 2003, the quote was used to describe a reaction to being kicked out of a group or location, and as a blog post title in 2007 that described the way a graphic designer created a specific lighting shader program. The phrase was used in January 2008, on Reddit by a Ron Paul opposer joking about creating a new Reddit without any mention of the man. A Facebook page followed in 2009, "Blackjack and Hookers." It was used as the title of an achievement in the Xbox e Kane and Lynch 2: Dog Days game. And in January 2010, the subreddit /r/BlackjackAndHookers began. By Decemeber 2011, it was associated with a shot of of Bender wearing a white fur coat and gold rings, lifted from a February 2000 episode of Futurama titled "Raging Bender."
Notable Examples:
We'll start our own Internet ...
with blackjack and hookers
We will make our own America...
with blackjack and hookers
Read Less
Read More