Business Cat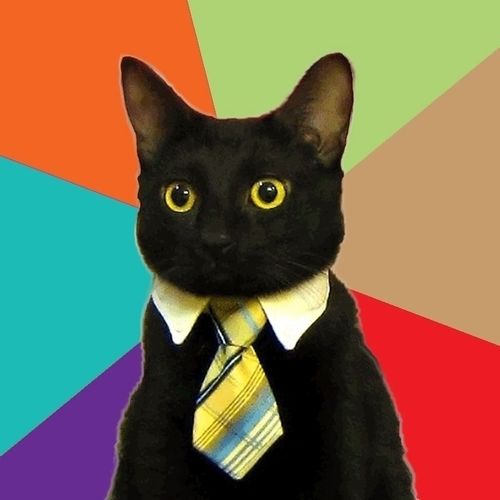 Business Cat sprang from the popular LOLCats meme genre. A nearly identical animal advice macro for canine lovers is called Business Dog; many other similar feline memes exist as well.
Business Cat appears in the role of a corporate boss, similar to the role inhabited by Steve Carrell on television program The Office. This meme strikes a familiar note with office workers everywhere. That the boss's commentary and advice is coming from a professionally dressed cat makes the captions more amusing.
The cat's photo was originally posted on the Something Awful forum by user Apple Jax. The cat was her boyfriend's pet, Emilio. The owner has expanded on Business Cat's success with a website devoted to the meme entirely, yobusinesscat.com.
The tie the cat is wearing came from Etsy, a crafting website, which was a Christmas present. The photo spread from that site, becoming a meme in 2011. Three days after the initial photo posted to Something Awful, the photo was reposted to Reddit with the title "Business Cat," then posted to MemeGenerator, and a second Reddit thread titled "Business Cat ain't no joke."
The captions relate to anything ridiculous or demanding that a boss might say to an employee, with other captions referencing cat sounds, cat behavior, and LOLcats material. Some popular captions include "It's time for your Purrformance review."
The meme spread via I Can Has Cheezburger, Urlesque, Buzzfeed, Uproxx and Smosh between January and March 2011.
Read Less
Read More