Butthurt Dweller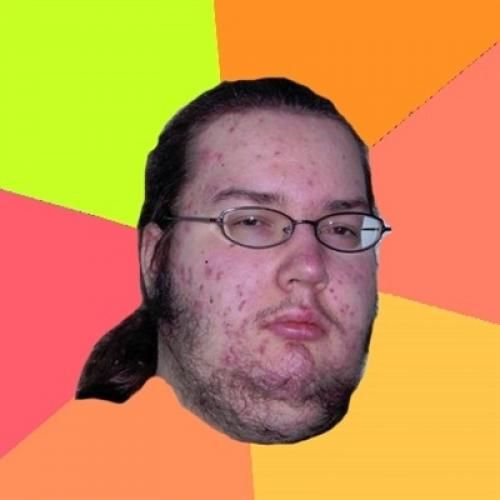 Butthurt Dweller is not attractive. One would hate to find him as a date on Match.com. The unattractive gent also goes by the name "Gordon Granudo."
This meme successfully captures an experience many have had - knowing a guy who has no attractiveness physically or mentally, and yet he posits great superiority over others.
This meme is unshaven, greasy, and pimply. He has a pony tail and glasses. He speaks smugly, considering himself better than everyone else. The photo in the meme belongs to a man from Finland, KimmoKM. He was on IRC, discussing the origin of the meme Butthurt Dweller, which began on a Finnish image board with a caption in Finnish which translates as "Ugly whore, I Wouldn't Fuck Her."
The photo appeared in 2003 slugged "Basement Dweller," showing a guy who lives in his parents basement, playing video games and smoking pot all day, trying to get women to notice he exists.
There are many English variations from the original Finnish, which use smug comments that judge how sexually attractive he finds a woman. Registered on Urban Dictionary in October, 2003, the meme grew in popularity through sites such as MemeGenerator and Quickmeme. In 2011, a version of Butthurt Dweller's face sprang up in rage comics, with a Geek theme.
Read Less
Read More