Captain Hindsight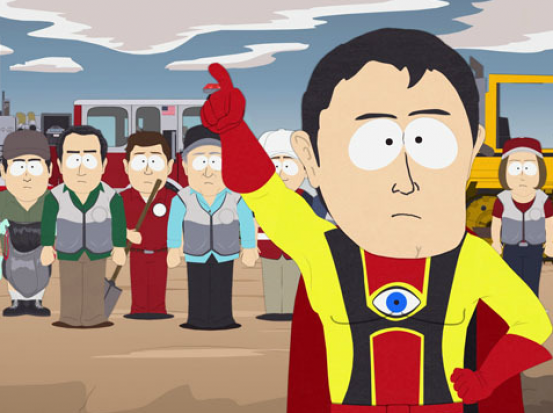 Based on the super hero character Captain Hindsight from an episode of the television series South Park, this image macro features captions that pose different predicaments, followed by text that states what should've been done differently to avoid the situation.
First appearing in "Coon 2: Hindsight," a South Park episode from 2010, Captain Hindsight arrives at the Deepwater Horizon oil spill, and explains to the crowd the precautions that should've been taken to prevent it from happening in the first place. The inspiration for the episode was the BP oil spill in the Gulf of Mexico the same year.
In October 2010, Reddit user ironpirate83 posted"BP knew well cement was 'unstable' – Captain Hindsight," and in November, various pages from Twitter to Facebook and Tumblr appeared featuring Captain Hindsight, as well as a snowclone formula "If x, you should've done y."
Captain Hindsight flew to the rescue again on 4chans' /b/ board in March 2011, after the earthquake and tsunami in Japan.
Notable Examples:
If you wanted to play PC games...
You should never have bought a Mac
If you never wanted nude pictures of yourself on the Internet...
You should never have taken them in the first place
Read Less
Read More