Down Voting Roman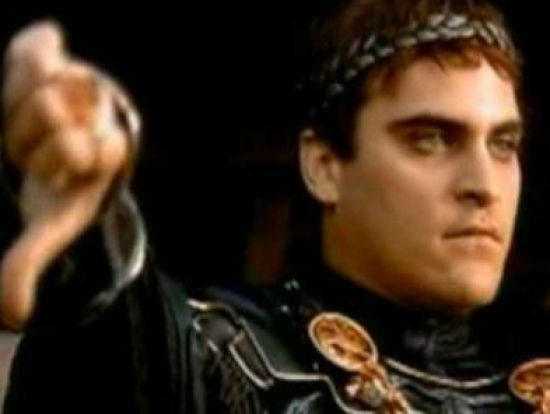 The down voting Roman is Joaquin Phoenix portraying Emperor Commodus in the 2000 film Gladiator. His cold expression fits well with his thumbs-down gesture. The text used for this meme usually displays dissatisfaction towards a website post or voting forum, such as on Reddit.
This screen shot comes from a scene in which Emperor Commodus gives a thumbs down in a dramatic gesture of disapproval regarding a battle, requiring the character of Maximus to kill his opponent.
The image macro was posted first to the Advice Animals subreddit in July, 2011eventually reaching the front page of Reddit, and being features on The Bigster, Slackstory, and on Facebook. He can also be found turning thumbs down on Tumblr, Meme Rush, and Troll.me as well as on Memegenerator. He's spawned derivatives such as an animated version of Commodus, a My Little Pony version, and a different film screen shot, in which Commodus reluctantly offers a thumbs up vote.
Notable examples:
Repost
Nice opinion...
Too bad it isn't the same as mine
Haters gonna hate...
Sure do.
Read Less
Read More