Drunk Baby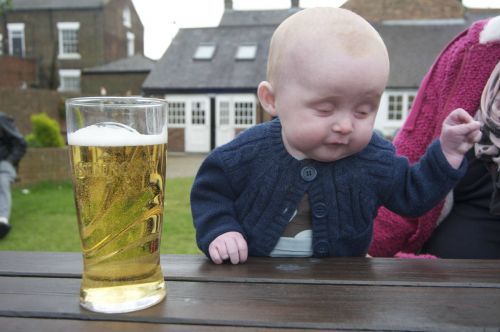 Adorable meme drunk baby is an advice animal image macro series. It shows a photo of an infant seated next to a pint of beer.
The baby's drowsy expression could indeed be mistaken for inebriation. The captions reveal the baby as an intoxicated storyteller, whose behavior is that of older drinkers.
Bald, with a cherub-plump face, the baby wears a blue sweater. The table at which the baby is seated appears to be outside in a rural area, with what look like farm buildings behind the table.
The original baby photowas submitted to the /r/funny subreddit by MaryjaneBrewington whose post was titled "She tells the worst jokes," in June 2012. The same day, the first Drunk Baby image macro appeared from Redditor snicklefritz618 to the /r/AdviceAnimals subreddit, with the caption "This guy…. I love this guy."
The meme spread in June 2012 following an aricle about it on Internet culture blog Slacktory. The same day the article appeared, 9gag user heartstorm90 submitted an image macro with the caption "Hey you. Yeah, You... I totally sucked your wife's tits." Rapid Facebook shares followed, as did postings on UpRoxx. The Huffington Post wrote an article about this popular meme, and humor site The FW listed Drunk Baby in their "Funniest Memes of the Week."
Naturally Drunk Baby has a Facebook page, and continues to spread on Tumblr and Quickmeme.
Read Less
Read More