Evil Cows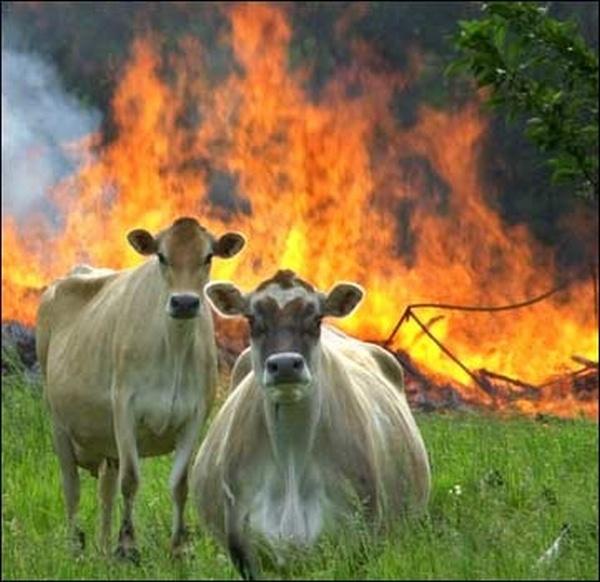 The Evil Cows meme is an advice animal image macro series that features a photograph of two cows positioned in front of a burned-down building, possibly a bar. The composition is simlar to that in the Disaster Girl meme photograph. Evil Cows images are captioned using first-person confessions of bad or vengeful deeds. The captions also reference farming and fast food.
Where the original cow photo came from? Unknown. Moo-ving on, in October 2002, the photo appeared on social news site Fark in reply to a story about an employee fired for refusing to pray.
In May 2012, Redditor Drunkmonkey 35 posted the photo to the /r/pics subreddit captioned "Moo, motherfucker - moo."
The meme spread the same month, when Redditor khdutton submitted the first "Evil Cows" Quickmeme titled "RetribMOOtion," captioned "They tipped us in our sleep - we burned them in their beds." The meme was reposted on I Can Has Cheezburger the same day.
Later in May, a compilation of Evil Cows images were posted on The FW, and a Facebook page for "evil cows" appeared. The meme has spread via FunnyJunk, the /r/AdviceAnimals subreddit, and Tumblr with the tag "#evil cows."
Read Less
Read More