Forever Alone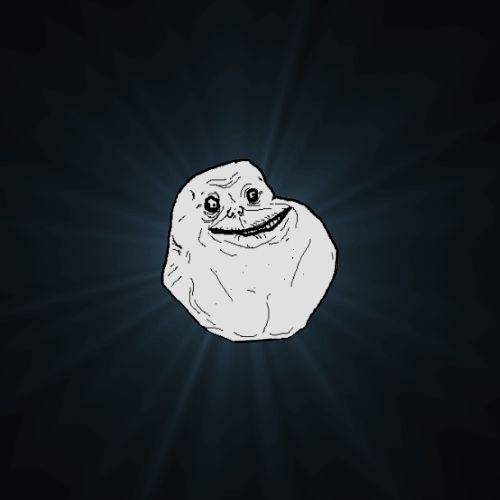 The Forever Alone advice animal image rage comic macro series is an extremely popular meme with a crudely drawn, large jawed face in black and white in the foreground and a dark grey to navy background that reveals lighter rays of light extending from the face. The split text captions of this meme focuses on the idea that this face is a lonely loser, driven by anger and disappointment. The meme emerged on macro generator sites such as Meme Generator and Quickmeme between December 2010 and January 2011.
In March 2011, 4chan and Reddit users undertook the plotting of a flash mob event, creating fake dating profiles on the dating site OKCupid, and convening a fake rendezvous for single males in New York City's Times Square, on May 13th, 2011. The internet site Urlesque reported that flyers with details of the plan were posted in forums and blogs including The Mainboard, NYMag, Social Spew, and Dating Service Reporter, among others. The event caused EarthCam servers to crash - the company whose cameras project images of Times Square. A Forever Alone poster was installed in a phone booth in the Times Square area.
The Forever Alone meme has produced spin off sub-memes and influenced many other memes as well. The roughly drawn cartoonish depiction of a face offers a quirky, much replicated style.
The character has a cynical and irritable attitude on life, and is not afraid to reveal his cynicism and disillusionment with the world.
There are several variations of the meme's Forever Alone primary phrase, such as changing the second word to be another word such as "Forever A Bone."
Forever Alone is thought of as one of the first major rage comic spin-offs created following the original Rage Guy character who appeared on 4chan in 2009.
In September 2010, "Forever Alone" memes appeared on FunnyJunk and extensively on Tumblr. A single topic blog, Forever Alone Comics was also launched, and the /r/foreveralone subreddit was created. As the meme grew in spread and popularity, "Forever Alone" moved gradually from a rage comic to a more general implication of being alone.
In November 2011, Sony Ericsson began a series of advertisements which featured the character of Forever Alone for its Xperiathon campaign. The campaign was slugged "The Loneliest Marathon in the World."
Read Less
Read More