Foul Bachelor Frog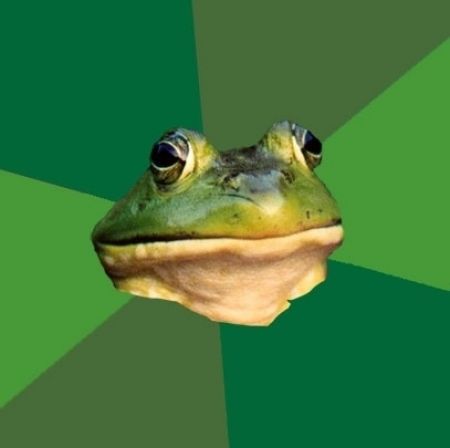 Foul Bachelor Frog is a well known meme featuring split caption sayings that spoof the questionable habits of male bachelors. It is a spin off of the Advice Dog meme, and it originally appeared in June 2009. At that time it became the second most copied image on memegenerator.net. It remains popular on 4chan, and has spawned spinoffs including Foul Bachelorette Frog, expressing the distaff view of bachelor life.
The meme is a centered photo of a frog with a colored background in multiple shades of green. The frog photo features a self-satisfied looking slimy green creature. The caption is split, with a statement of fact on top, and Foul Bachelor Frog's response to it below the photo.
Well known quotes from Foul Bachelor Frog include "Armpits smell like Wolf brand chili ... Me gusta," and "Her Profile is public...time to fap to her 'beach 2011:J" album."
The captions generally depict lazy, repulsive, misogynistic, or hedonistic behaviors .
The original photo of the frog bears the filename frog-freckles-sore-throat-worst-home-remedies.jpg. It first appeared on a site no longer in existence, remedicated.com, and was titled "10 Bizarre and Ineffective Home Treatments." It was published in June 2008.
The image macro first appeared a year later, in June 2009. Along with it's popularity on memegenerator.net, the frog can be found on advice animal sites like QuickMeme and DIYLOL.
Foul Bachelor Frog's popularity is due in part to the macro's use as a way to share socially embarrassing behaviors that many have experienced but would not publically express without anonymity.
Read Less
Read More