Futurama Fry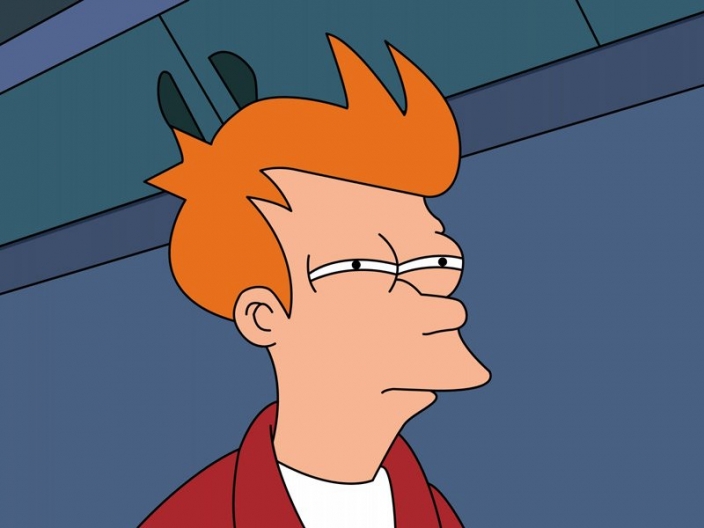 Futurama Fry is a still of Phillip J. Fry, a character in the animated television sitcom Futurama. The meme shows Fry squinting in consideration. The image is paired with text that states the character is not sure if something is one thing or another, such as "Not sure if Halloween costume" as the top line with "or just a prostitute" as the bottom line. The text represents an internal query made by the character. The meme originated with a season 2 episode of Futurama, "The Lesser of Two Evils." Fry makes the face while he is searching love-interest Leela's underwear drawer.
Fry was born in New York City in the 20th Century, a pizza delivery boy who fell into a cryonic tank when he delivered a pizza to the company Applied Cryogenics. Frozen until 2999, once revived, he meets one-eyed cryogenics counselor Leela, his love object; a kleptomaniac alcohol drinking robot named Bender, and the often derided Doctor Zoidberg. Their employer, Planet Express delivery, is owned by the demented Professor Farnsworth, who is also a distant nephew of Fry. Through time travel, Fry is also his own grandfather.
Despite being lazy and not too smart, Fry is also sweet, tolerant, and kind. He often tries to do the right thing, has shown skills as a fighter, and at playing video games. His love for Leela is initially unrequited, but as the series progresses, she begins to return his affections. He has saved Leela's life on numerous occasions.
The meme has appeared in Comedy Central commercials featuring Fry for the 2012 television season, and in June 2012, the meme appeared at the end a new episode's opening sequence, along with the caption "Not sure if new episode, or just rerun of episode I watched drunk".
One of the earliest captions for this meme was "not sure if trolling, or just stupid."
Read Less
Read More