Grumpy Cat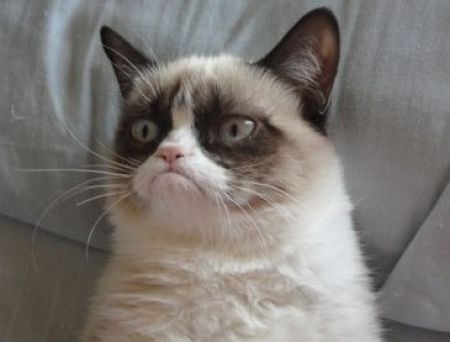 Grumpy Cat is seemingly everywhere. This pampered feline has an unhappy expression, even as his owner, whose hand is often visible in the background of this photo is stroking him, his expression is angrily petulant. This snowshoe cat's pretty blue eyes and soft long fur serve as a counterpoint to his down-turned lips.
The cat's photos were posted to Reddit in September 2012 by his Arizona owner Tavatha Bundesen and her brother Bryan. The cat is also known as "Tard." short for Tardar (Tartar) Sauce.
The Reddit posting was joined to photoshopped parodies and image macros , and three video clips of the cat playing were uploaded to YouTube. Grumpy Cat was everywhere.
The name "Grumpy Cat" was bound to other pictures of unhappy or scornful cats on LOLcat previously.
BuzzFeed reblogged images of this Grumpy Cat in a post titled "This Cat Is Not Impressed," and by popular demand, Redditor Cataliades submitted a post titled "Since everyone liked Grumpy Cat here are a few more." "Grumpy Cat" was featured on many animal photo blogs and on humor sites, including Paw Nation, The Meta Picture and FunnyJunk, among others.
Grumpy Cat's visage has also been compared to television characters Ron Swanson (Parks & Recreation) and Dwight Schrute (The Office).
Grumpy Cat has a large presence on Reddit, Facebook, Tumblr, and YouTube, as well as an official twitter account and merchandise such as tee shirts and coffee mugs.
Read Less
Read More