Y U No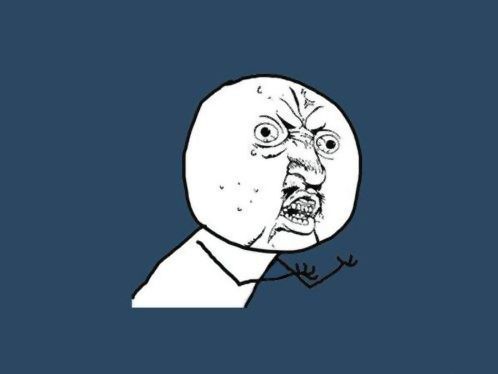 Y U NO Guy is also called Y U No [X]? Or TXT BAK. He exists to bring attention to a subject or issue. The stick-figure's frustrated, angry facial expression originated in the Japanese sci-fi anime series and manga, Gantz. The expression can be located in the manga of Gantz' Chapter 55, released in Japan in 2002, with an English language translation originating in 2009.
Once the English language translation was released, the Gantz expression circulated on 4chan image boards before being adapted to the Y U No guy.
The original Y U NO template was posted to LOLTumblrWallpapers, and received over 10,000 likes and reblogs. This template featured a light brown background with the character centered, and text reading: "I TXT U, Y U NO TXT BAK!?"
Spreading virally, the Gantz image was uploaded onto MemeGenerator, which created dozens of images based on the text formula of a subject noun, followed by Y, U, NO, and a verb.
The image spread sizably as both an image or simply through text following this pattern, without the Gantz image. Pop culture blogs have featured it, including, FunnyJunk.
The meme is has it's own "plz" account on the site DeviantART, allowing users to create their own without having to upload image macros.
Y U NO is also featured in billboard and magazine advertisements, including an ad for the video game Driver San Francisco, and on political signs in countries such as Libya.
Read Less
Read More